Proscenic Floobot X1 Robot Vacuum Review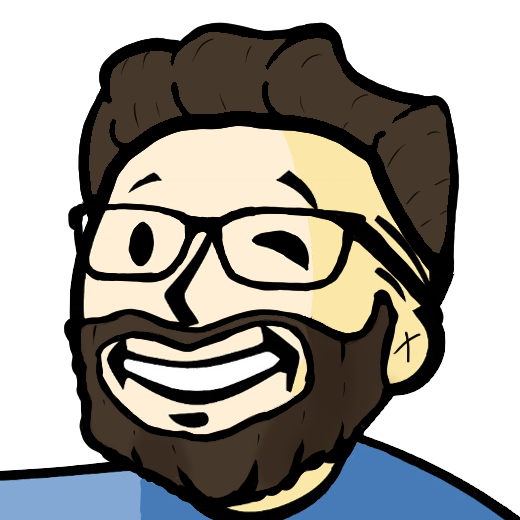 Written by blakadder on

Proscenic's Floobot X1 is a robot vacuum with a self-empty dust station and a vibrating mop.
Full disclosure: This is a review sample sent to me free of charge by Proscenic. Review is not influenced by that fact and is solely my opinion. Shopping links in this article are affiliate links and I earn a small commission when you buy through them
Proscenic has been around since 2013 which is an eternity in the smart home world. I have their air fryer for over 2 years now, still going strong. Because of that I was happy to take a look at their newest robot vacuum the Floobot X1.
Proscenic Floobot X1 is available on Amazon as well as it's station-less version Proscenic V10
Vacuum comes in a box within a box with all of the standard accoutrements and even a remote control. Haven't seen one of those packaged with a vacuum for years.
Some spare parts are also included: a spare side brush, mop pad, HEPA filter and only one extra dust bag.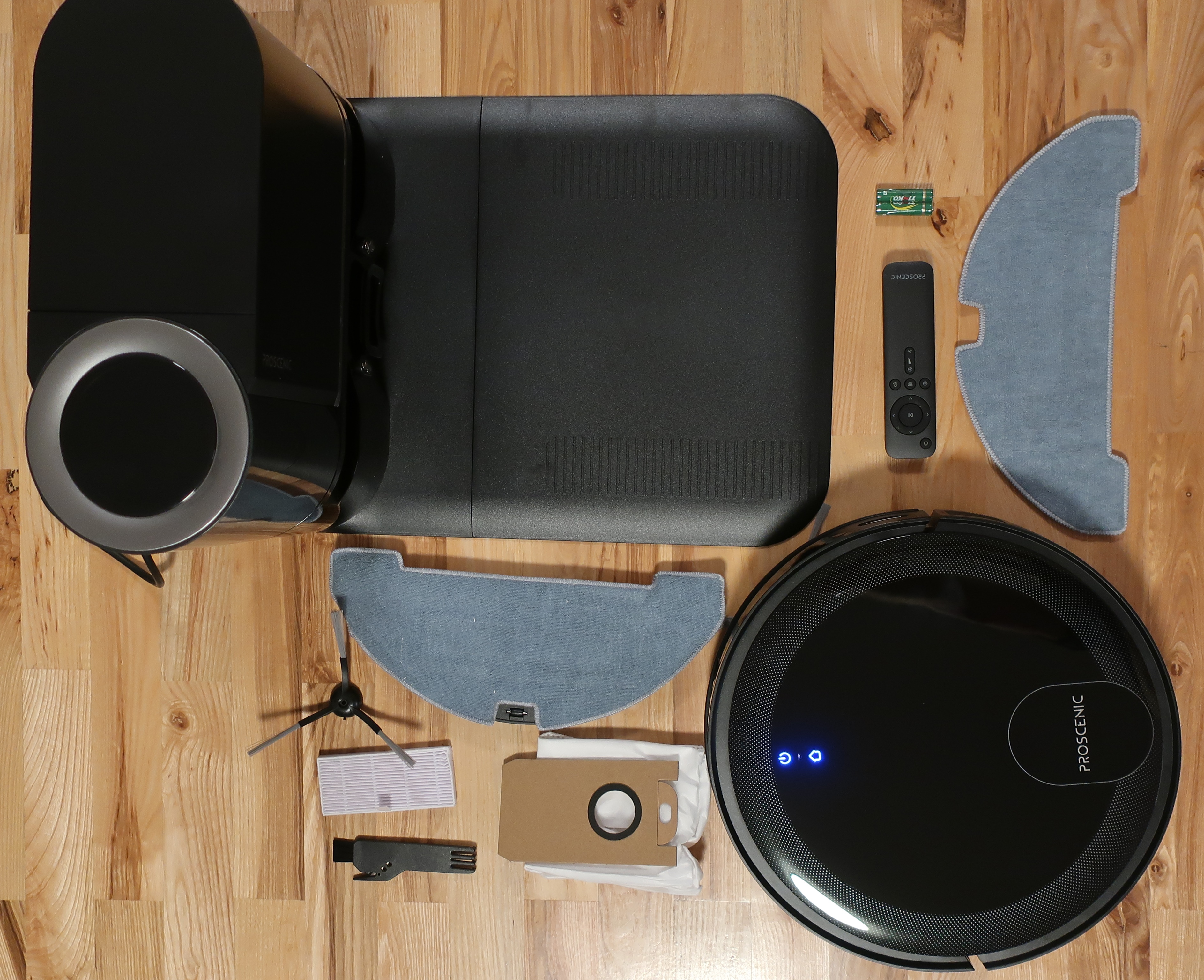 Features and Performance
Both the vacuum and the base station are encased in glossy piano black plastic and while they look great they're tremendous dust and fingerprint magnets and also incredibly hard to photograph with all the curved mirror like surfaces. Proscenic did receive the Red Dot Product Design 2023 award for this sleek design which probably means that good design trumps visible dust and fingerprint.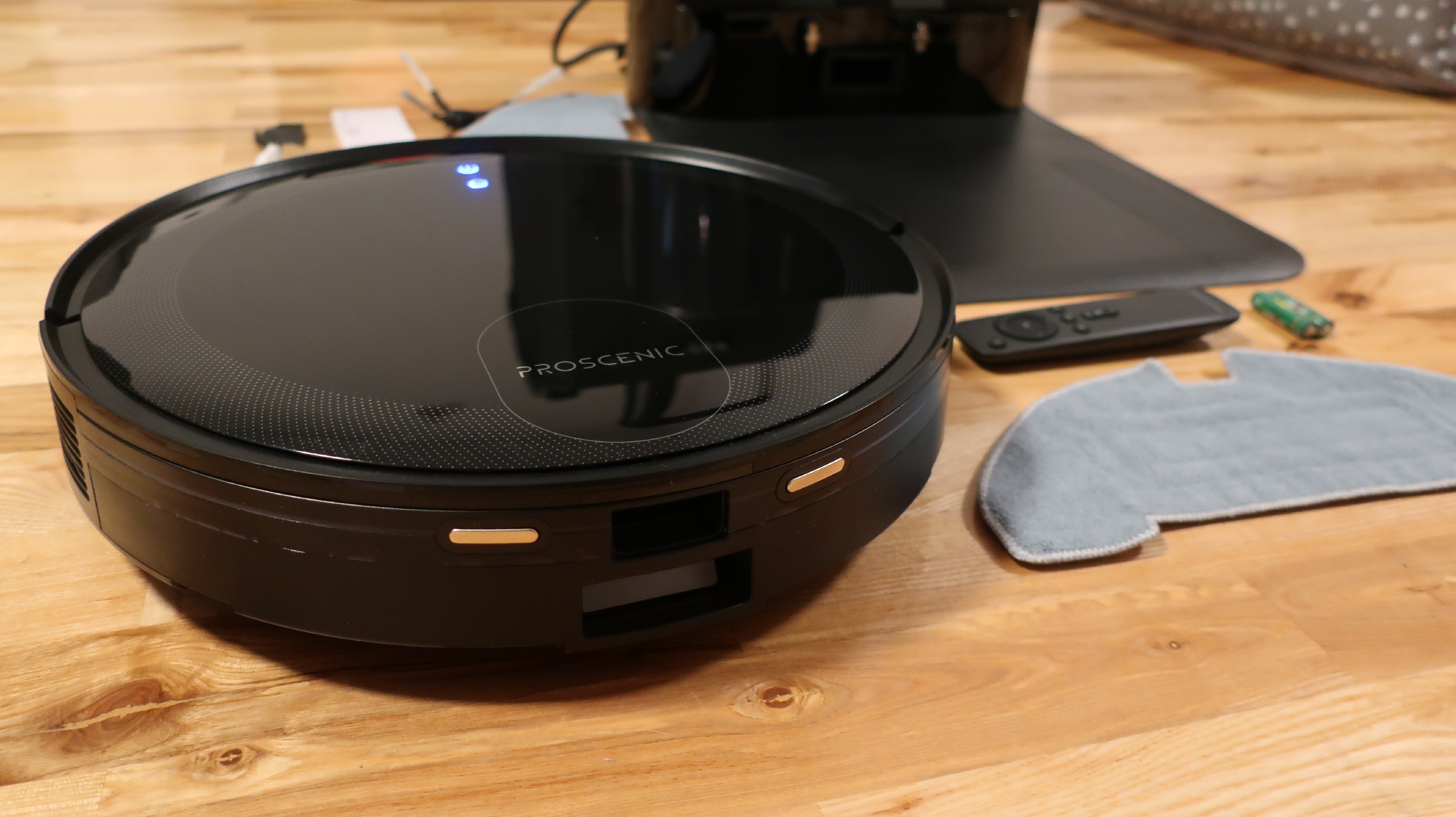 The X1 doesn't have the very common lidar tower used for navigation and instead integrates the PathPro™ Laser-Assisted Navigation into its body making the height profile significantly smaller. It is smaller in diameter with only 33 cm, less than my previous Xiaomi and Viomi vacuum cleaners which tended to get stuck between chair legs or under the sofa due to their size. That was not an issue for Floobot X1.
Charging and dust empty station takes up 50cm x 35cm space on the floor but you can use it without the plastic "landing" pad which, I think, is there to prevent the mop from soaking the floor when the vacuum finishes its job. The station is much shorter than the typical tower like stations taking up only 30 cm in height.
Declared suction power is 3000Pa which is more than my previous vacuums but less than the more expensive options on the market which go up to 6000Pa these days. But 3000Pa is enough and it vacuums really well, doing an excellent job with pet and human hairs without tangling them up in the rotating brush. The noise levels while working are between 55db and 75db depending on the suction mode which is in range of standard robot vacuums. I have yet to see a silent robot vacuum that actually does its job well
Battery is not as impressive with only 2600mAh but it shouldn't matter that much since it has a recharge and resume function and will continue from the point where it stopped to recharge. I have a little under 50m2 of floor space to clean, depending on the amount of empty boxes on the floor, and one battery charge is enough.
Dust bin capacity is 240ml which is emptied (but not completely, see below image) after each vacuum run (if you set it up like that in the app) into a 2.5L dust bag which should suffice for a month or two in a typical home environment.
Empty station also contains a UV light which will, in theory, eliminate bacteria inside the dust bag. Not really sure how to verify that, suggestions in comments…
X1's mopping feature still requires manual water loading and removal but this mop vibrates up to 3000 times per minute improving the mopping performance over a standard dragging mop. It will not save you from mopping up big spills but it helps keep hardwood floors clean and takes care of minor daily drips and spills. We usually run the mop only program once a week to freshen floors and kitchen tiles. Water tank has a decent volume of 250ml but you will need to check the water level during mopping if you have a large mopping area. Unfortunately there is no water level sensor which would improve the user experience.
Besides the mandatory collision and cliff detection sensors, Floobot X1 has an ultrasonic sensor for carpet recognition which will prevent it from mopping over your nice carpet and getting it all damp and smelly but it will increase the suction power when on the carpet for more thorough cleaning.
I wasn't that impressed with the collision sensor. It recognises when someone steps in front of it and detects larger obstacles but it kept slamming into furniture and doors, especially darker colored objects. Definitely needs some tuning.
Cliff sensor has a quirk as well, it's good at avoiding big drops like from stairs but I have a bathroom that has floor recessed by 2 cm from the rest of the floor and it gladly goes over it down the bathroom. The funny thing is that it cannot climb over that rise and gets stuck in the room. I guess that's what no-go zones are for.
The App
To use the vacuum you need to install Proscenic app (Google, Apple) (don't even look at their rating). Adding the vacuum is simple and straightforward and there's a giant getting started infographic that came with the box to steer you.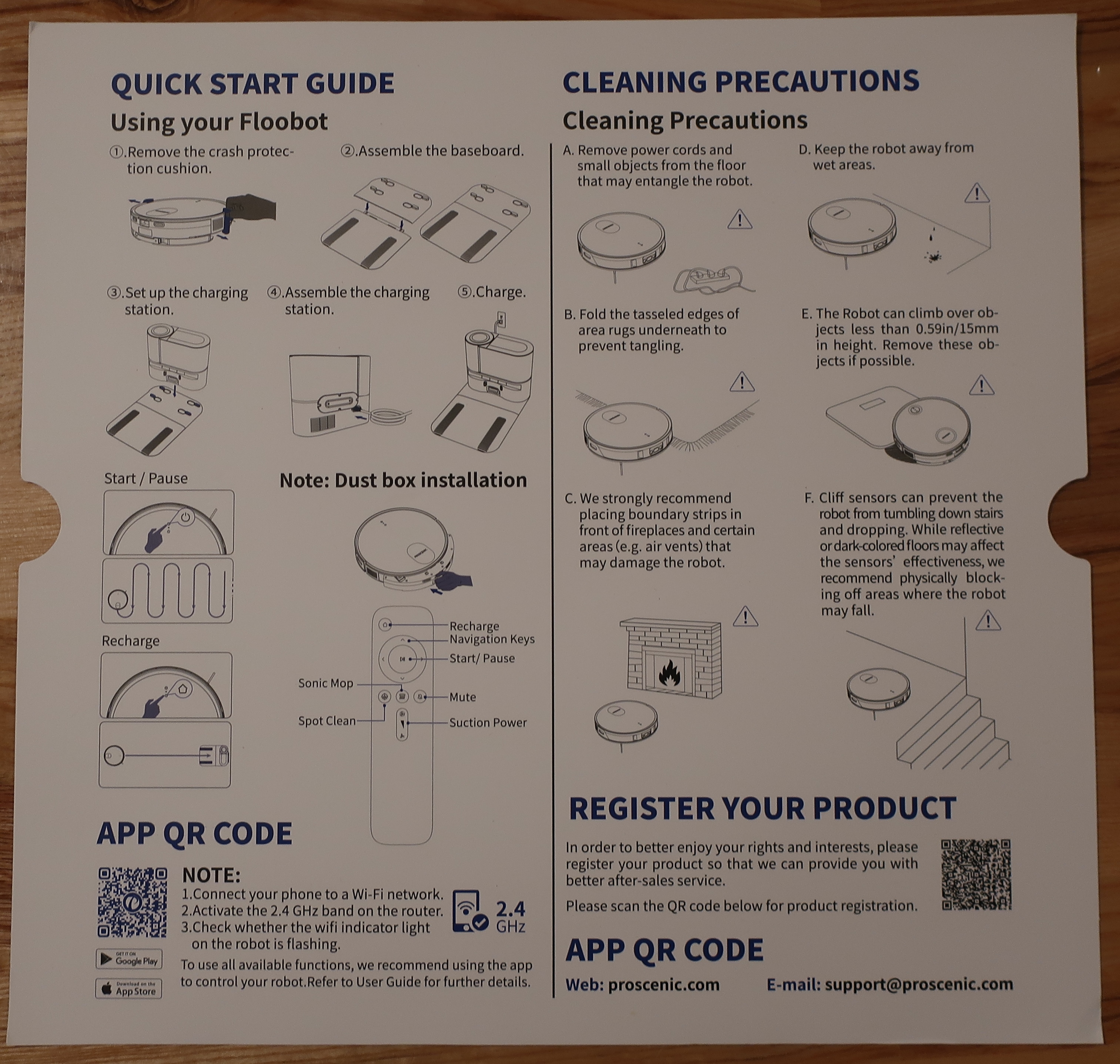 The UI for the vacuum is quite cryptic for a first time user. Almost all of the functions are represented only as tiny icons and you'll need to play "click around and find out" for a while until you figure out and remember what they do. One peculiar inclusion is an icon to trigger emptying of the dustbin while it is docked but when the vacuum is running it stops and starts returning to base to charge. Rest of the vacuum options are hidden not behind the gear icon but the one left of it, the four circles.
Room mapping is quite good. I have an open plan floor in my house and this is the first time a robot vacuum identified subsections within the space. Until now all I got was a single room which I had to separate manually.
The app offers every modern vacuum feature: no-go zones, no-mop zones, room, point and area cleaning, as it should. It does do something new and interesting: you can assign different suction or water levels for a room or create custom areas with those custom cleaning settings. It also allows you to set specific rooms or areas to be cleaned twice if you need it and set an order of cleaning for the rooms. Vacuum supports up to 5 saved maps, you can switch between them in the app and use the vacuum on multiple floors.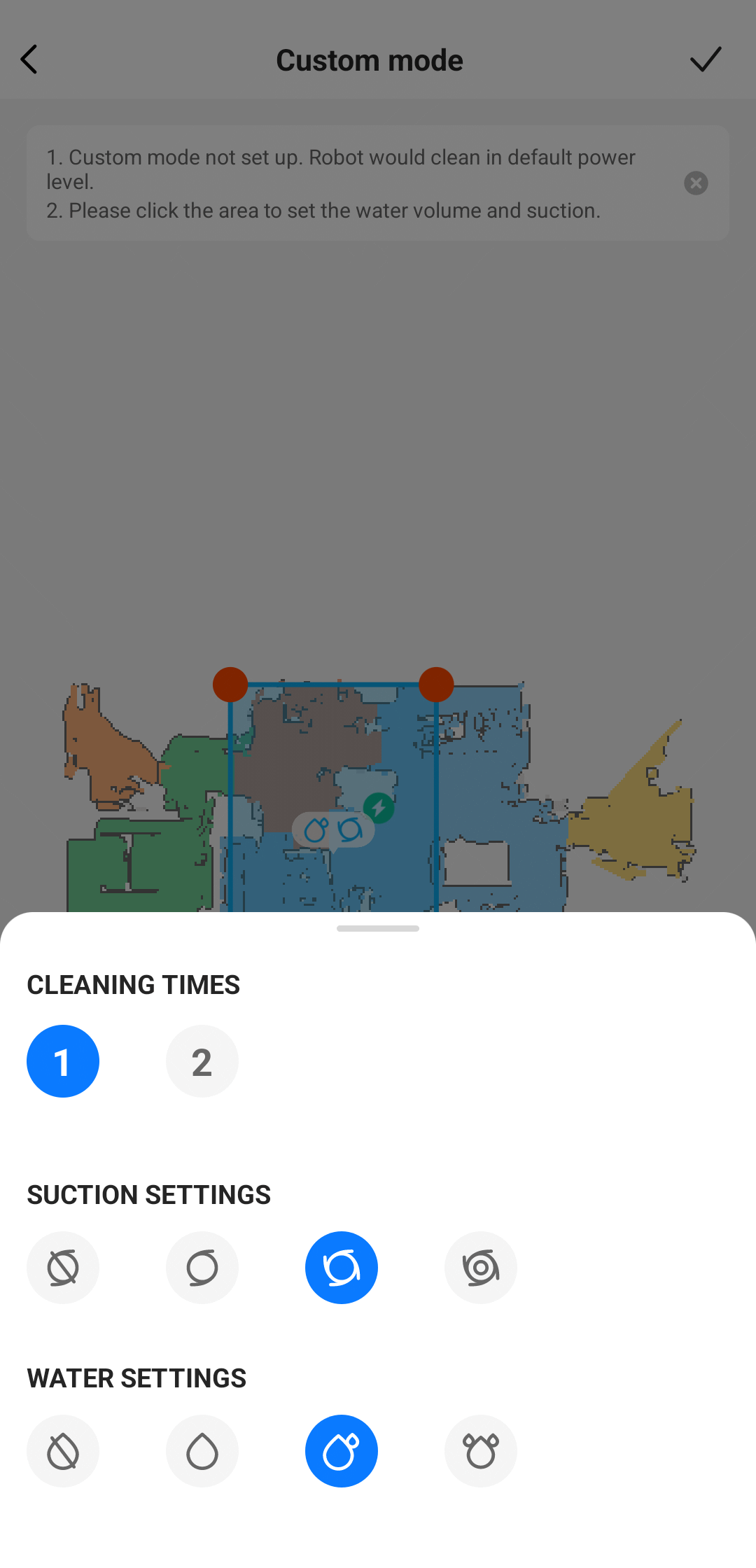 You will receive standard error notification on your phone but I'm not sure if the base station can report when the dust bag is full. Printed manual doesn't mention it at all and my dust bag is far from full.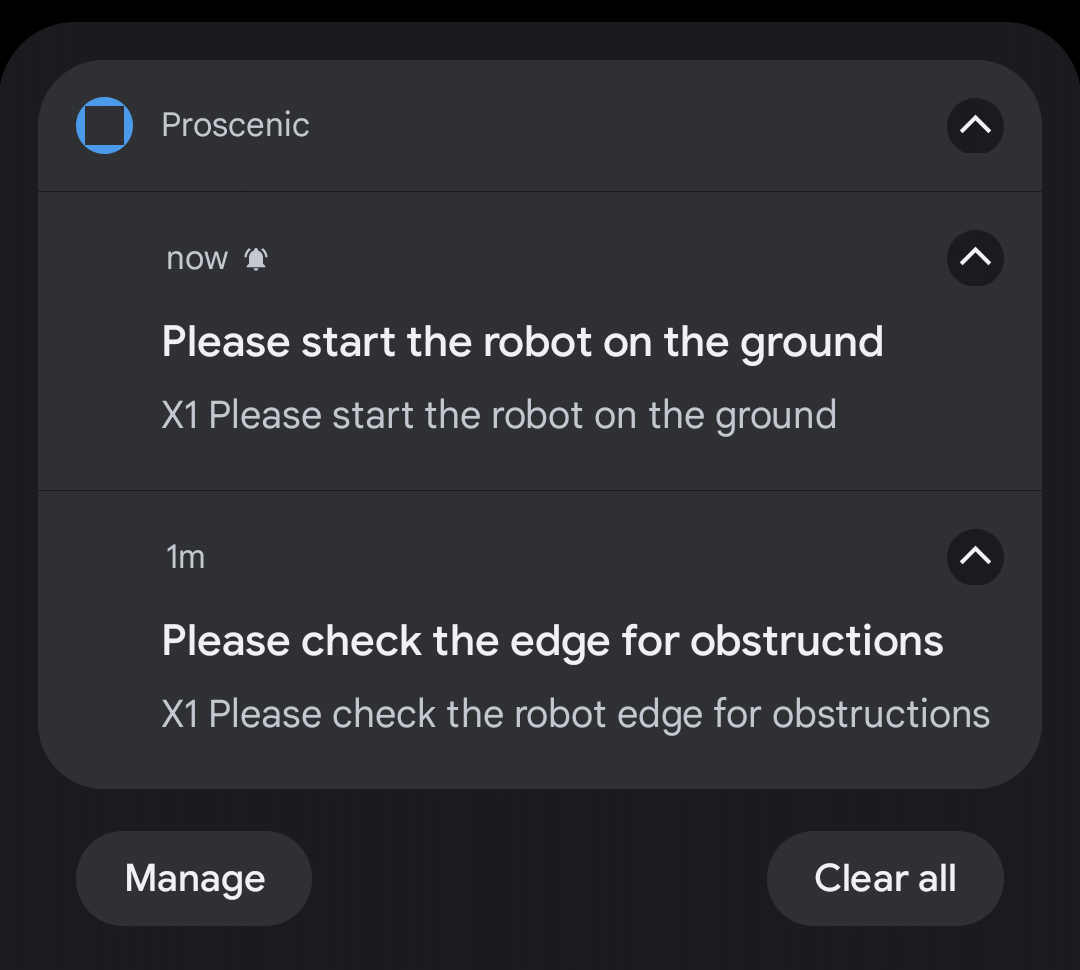 Proscenic app integrates with Google Home and Alexa. You get basic commands for starting and stopping cleaning and adjusting suction levels.
Final Thoughts
Navigation is not the best and you're obligated to use the Proscenic app for most of the features but the Floobot X1 still provides all the necessary vacuum and mopping functions in a compact and elegant design. Compromises were necessary to hit the price point like the small battery but it is a capable vacuum cleaner and it performed better than my older robot vacuums. It takes less space and gets into more places in my home. Mopping was actually a useful addition this time and will be used more than once.
If your placement options are limited or you can only park the vacuum under furniture there's Proscenic V10. It is specced exactly the same as the X1 with small design changes and a small charging only station.
Proscenic Floobot X1 is available on Amazon as well as it's station-less version Proscenic V10