Proscenic M9 Rotating Mop Robot Vacuum Review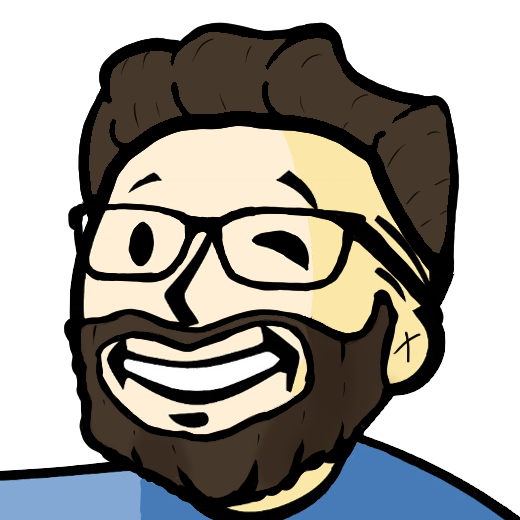 Written by blakadder on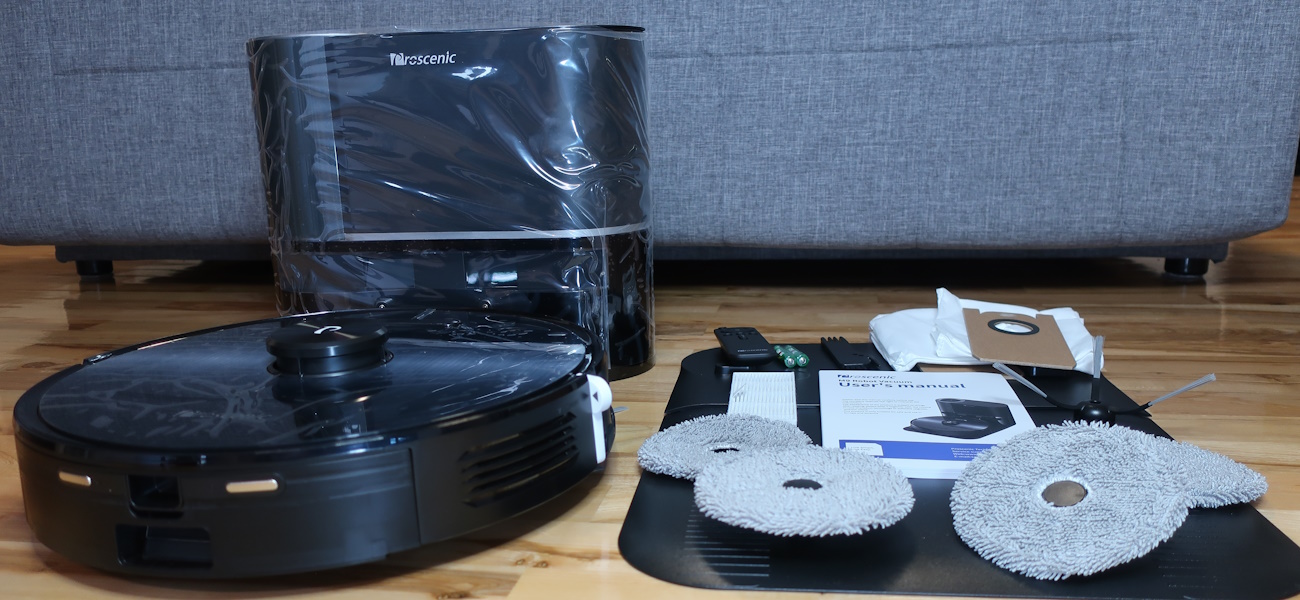 Proscenic has sent me their newest flagship robot vacuum, the Proscenic M9 which upgrades the mopping function with dual spinning mops
Full disclosure: This is a review sample sent to me free of charge by Proscenic. Review is not influenced by that fact and is solely my opinion. Shopping links in this article are affiliate links and I earn a small commission when you buy through them
Proscenic M9 is available on Amazon.
I've been given a discount code 4JNF2AIT that brings the price down from 549€ MSRP to 479€ but is valid only until 06.08.2023.
Vacuum comes in a plain brown shipping box which holds the retail box.
On top of the box is an information sheet with a pictured quick start guide.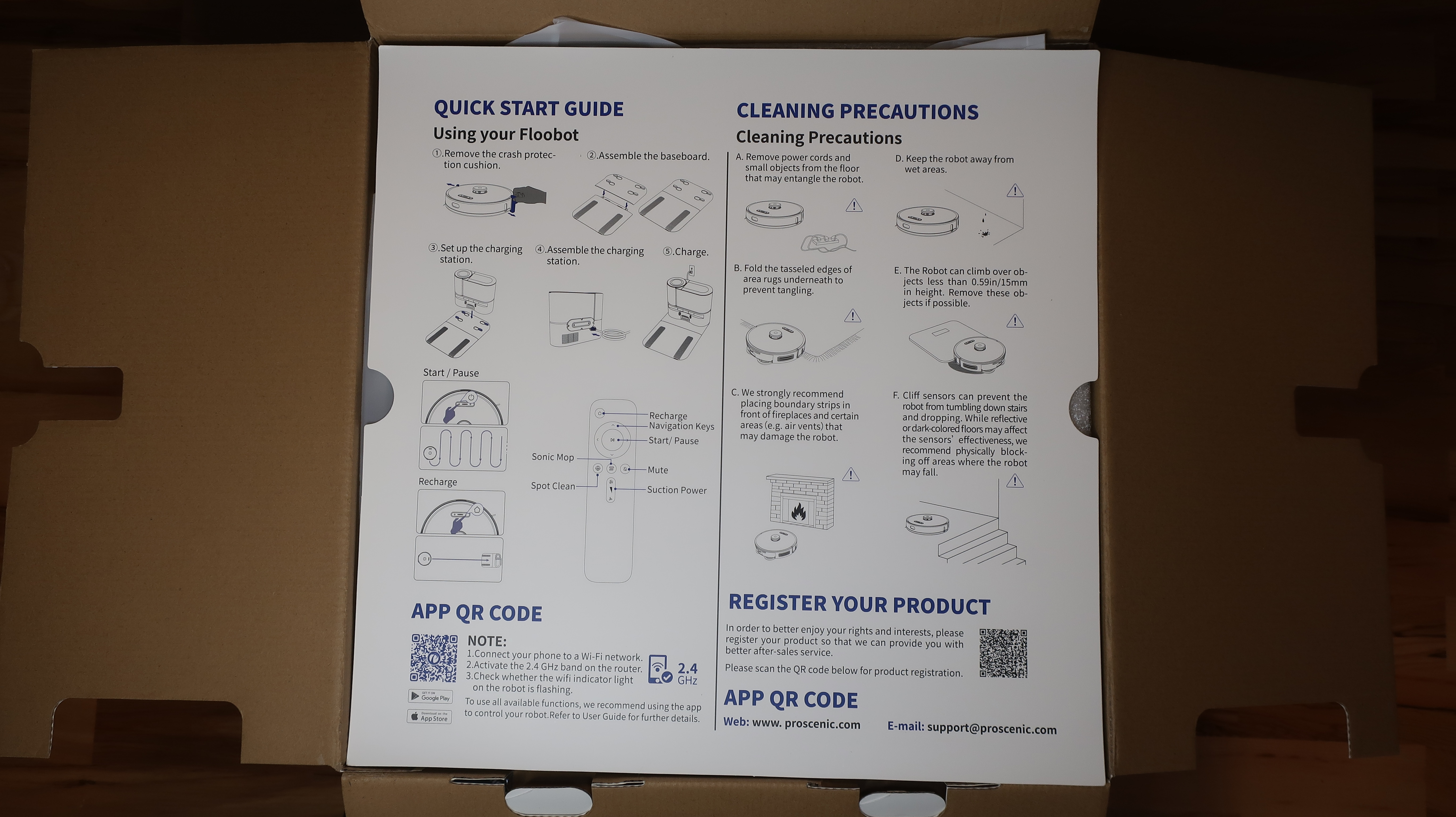 Besides the vacuum and the base station there is a decent amount of spare parts (side brush, extra mop pad set, a HEPA filter, two dust bags) and, just like the Floobot X1, a remote control (batteries included). The remote control is a nice bonus control option that is missing in other brands.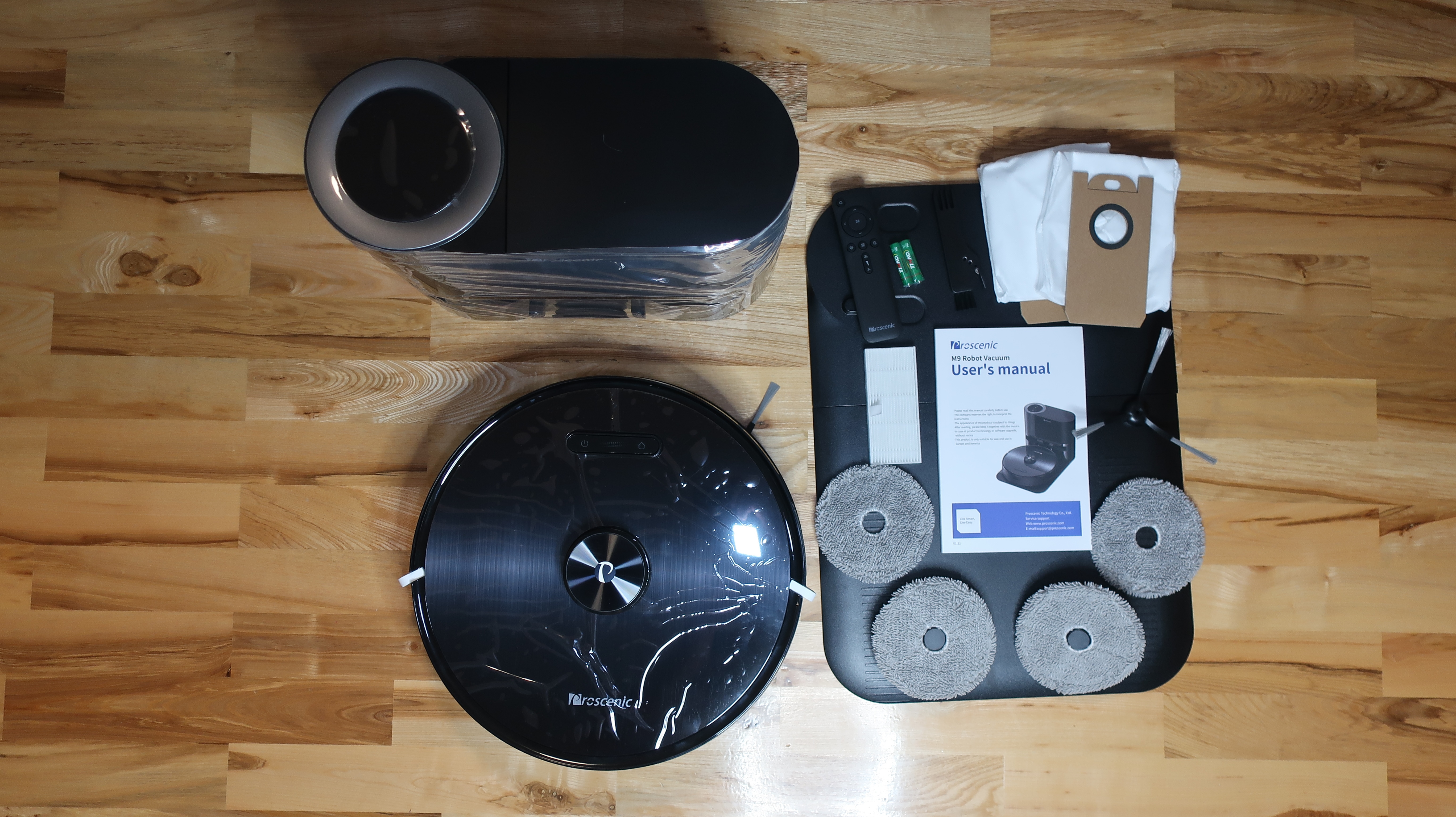 The vacuum unit has the typical round design with the LiDAR "tower" in the middle. It is almost identical to my trusty Viomi S9. The top surface has tasteful smoky gray gradient but the large "P" on the LiDAR tower is a bit much for my liking and they definitely could've went without it. The logo on the vacuum has been redesigned compared to the one used on the previously reviewed Floobot X1.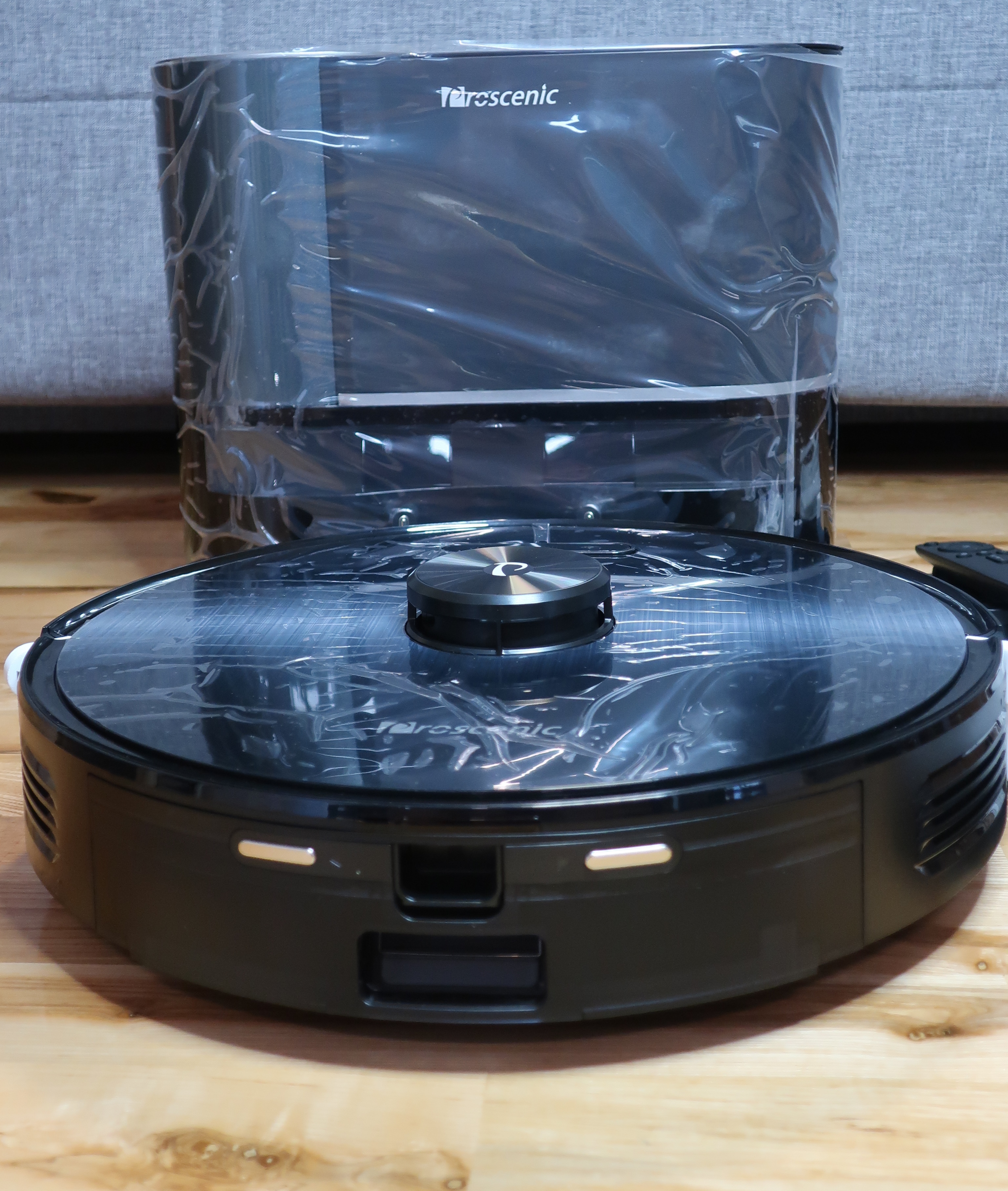 The buttons on the vacuum feel quite janky. They're a one piece plastic cutout for standard push buttons and not touch buttons. They don't sit flush to the surface as you can see on the below image.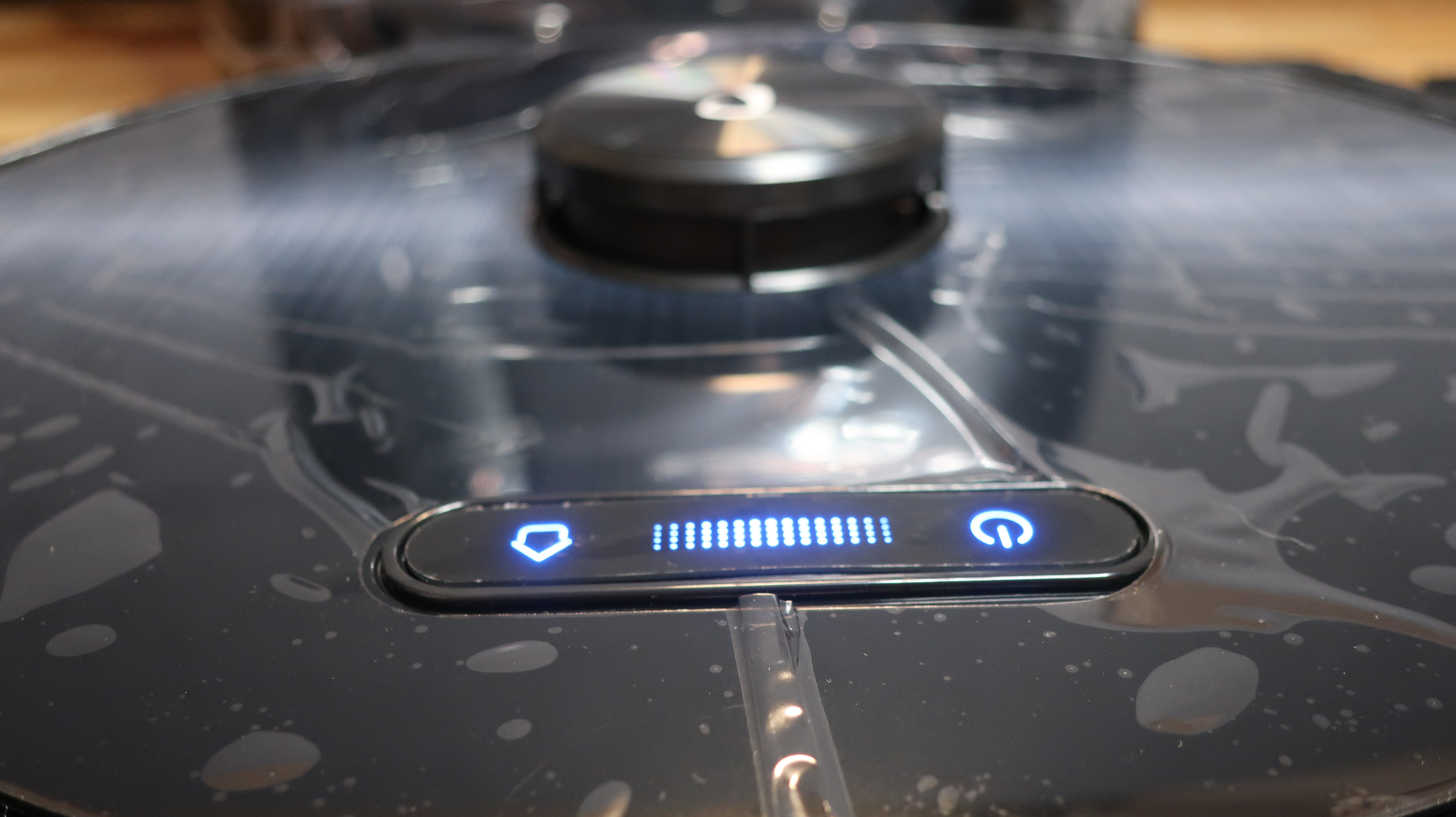 The middle bar looks like it would be a battery status indicator but it isn't. It is just a single LED light that does change colors and blink but does not show battery percentage.
Navigation
5th generation LiDAR navigation is great. It even does decent obstacle detection considering it doesn't have a front facing camera. It will not avoid its biggest nemesis, a stray USB cable and will gladly chew it up but it does not bump into furniture and is quite good at detecting humans jumping in front of it during work.
The vacuum carries a whole array of standard robot vacuum sensors and a carpet detection sensor that, oddly, only works to boost vacuuming strength when it detects a carpet but when mopping its like it doesn't exist.
Vacuuming
The charging/dust empty station is identical to the one used with Floobot X1 but with the new logo. The dust bags used are interchangeable.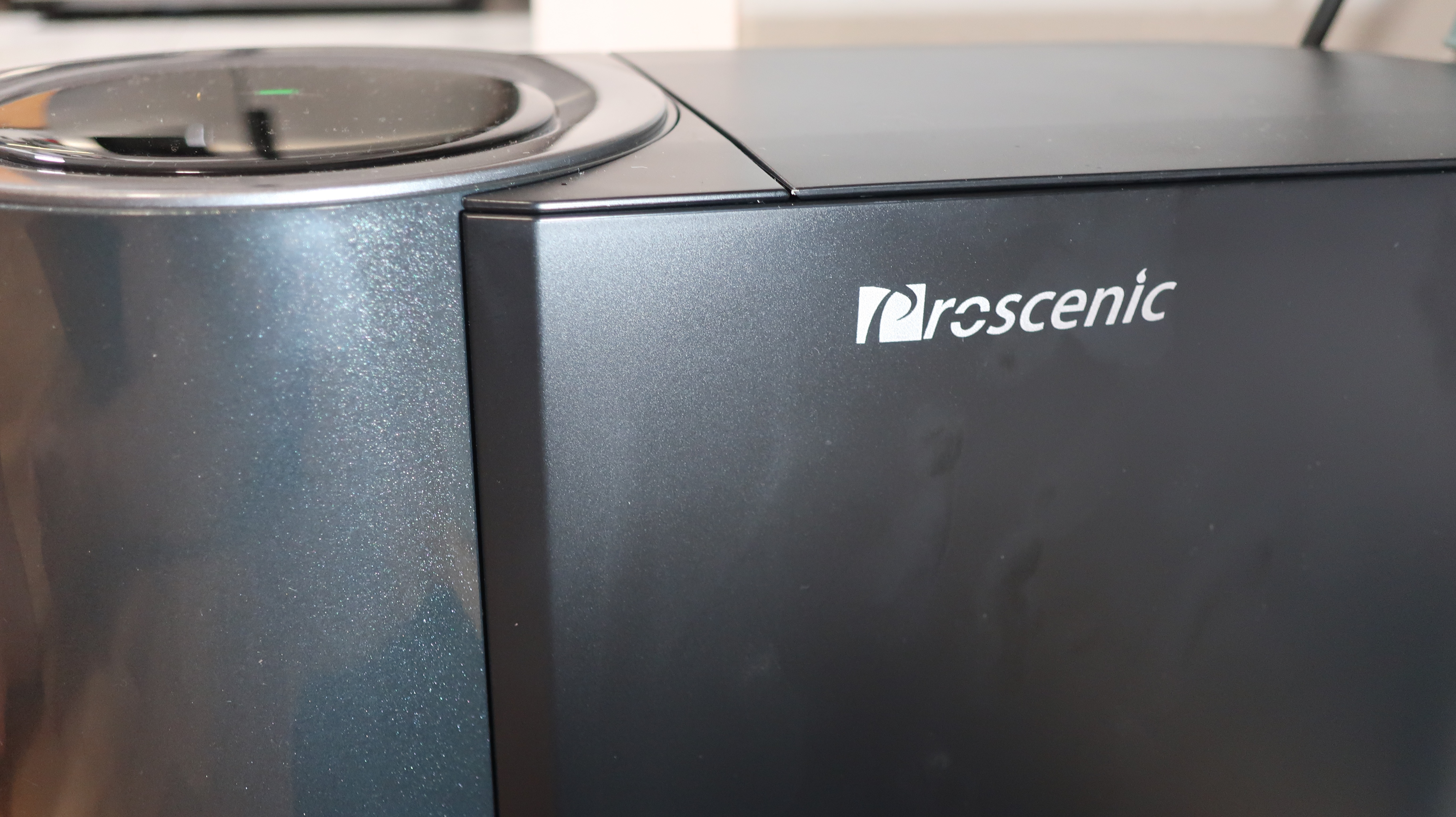 Suction power of the M9 is now a mighty 4500Pa. That's the right number for daily cleaning tasks where it can pick up even larger objects like seeds or small stones. The noise levels are in a range between 55db and 75db depending on the vacuum mode (quiet, medium or strong). It uses a standard robot vacuum brush with bristles that handles dirst well but has the tendency to tangle with very long hairs.
Battery is a chunky 5200mAh one enabling it to vacuum for two hours on strong vacuum mode, a little bit over 4 hours on eco or mop only for 90 minutes. It cleaned my cca 50m2 of accessible floor space on strong in vacuum and mopping mode and had over 30% battery left.
Vacuum dust bin capacity is 280ml which is emptied into the base station that holds a 2.5L dust bag which should be enough for two months. Since they're the same dust bags as with X1 it can go even longer.
This base station also has the UV light to "sterilise" the dust bag contents.
Mopping
Vacuuming performance and features are on par with other similarly priced vacuum but mopping is where there are innovations/improvements. Proscenic has ditched the lackluster mop pad and replaced it with dual circle pads that spin at 120 rpm and apply 6N (newton) of force pressure on the floor during cleaning. This amount of force is equal to force exerted while mopping with a traditional mop with moderate effort, so it basically does the job instead of you.
Circular mop pads are velcroed to the plastic holder which are mounted on the vacuum with magnets. Magnets are not very strong and I had situations where the mop got disconnected in cable tangles.
This finally makes the mopping feature a worthwhile addition and a meaningful feature that you purchase intentionally. Water level is adjustable in 3 stages same as with previous models.
Mops cannot be lifted and there is no special carpet detection, mops will continue to spin and dispense water. You have to set no mopping zones in the map that will be avoided when mopping is selected as a cleaning option.
Woefully the water tank has a paltry 180ml volume which can mop approximately 20m2 on water level 2. The water tank still does not have a water level sensor, or even a simple tank empty alert so you'll have to keep an eye on it during mopping and top up the water when necessary. I'm truly baffled they did not implement a simple water sensor in the water tank to at least send an alert when empty and pause mopping instead of continuing with a dry mop just wasting energy.
You still need to pay attention and remember to remove the mops after a job then clean and dry them yourself. Take into account that vacuums that have those options usually carry twice the price tag. Therefore I don't view this as a negative in any way.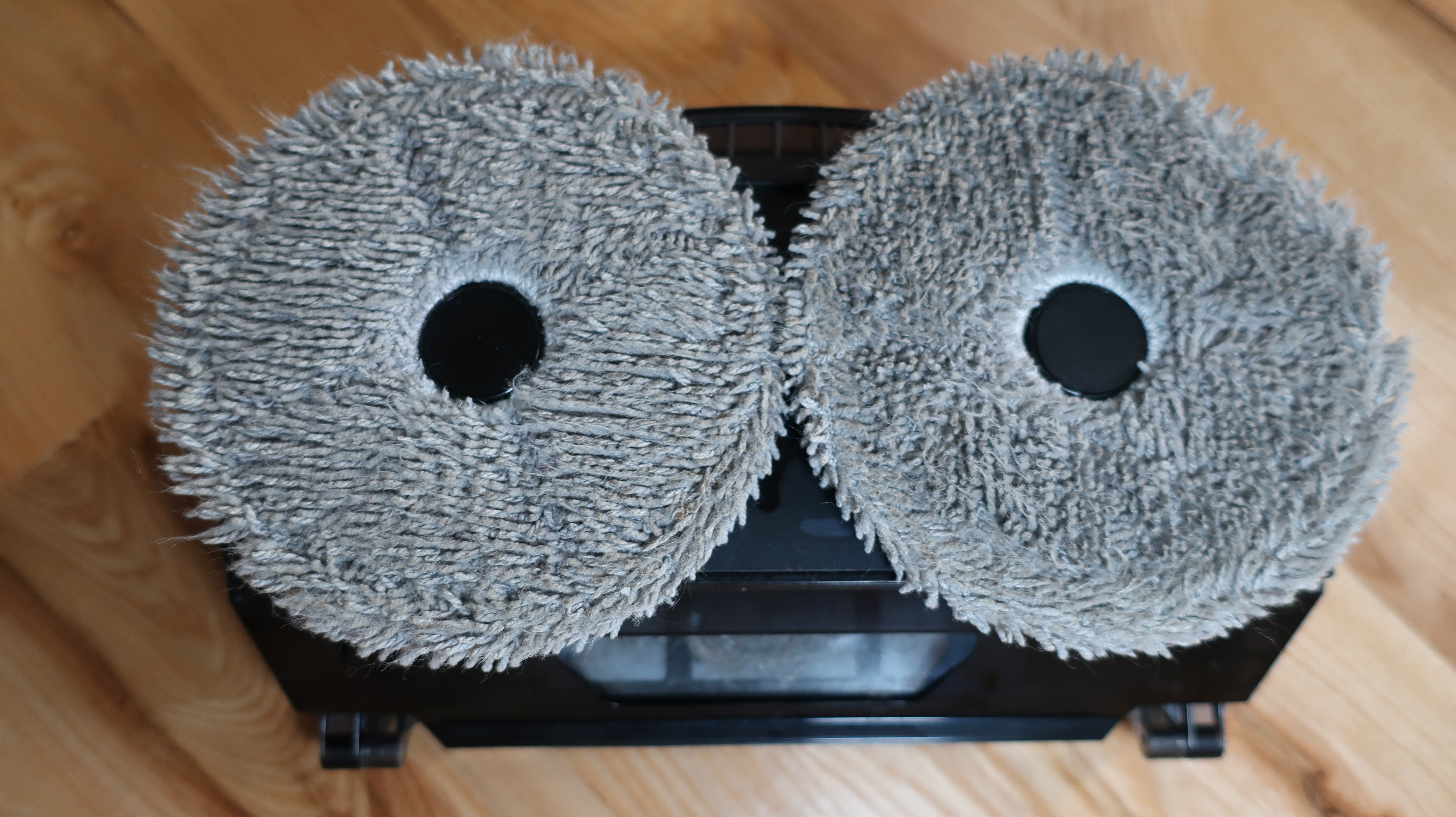 The rotating mops are a huge improvement, they truly clean the floor well. Unfortunately the small water tank and no water sensor situation significantly marrs the experience restraining mopping as an active task requiring your attention that cannot be fully automated. Having said that, if you need to mop 20m2 or less you'll be fine. I've split my open floor plan into regions that can be mopped with a single water tank. Depending on the way you integrate it there's also an option to pause the task at 20m2 and receive an alert.
The App
To use the vacuum you need to install ProscenicHome app (Google, Apple) (still with abysmal rating).
The UI for the vacuum is the same as for other Proscenic vacuums. Some of the functions are represented as tiny icons and you'll need to play "click around and find out" for a while until you figure out and remember what they do. There is still an icon to trigger emptying of the dustbin which stops the current task and brings the vacuum back to base to empty the bin. Additional vacuum options are hidden not behind the gear icon but the one left of it, the four circles.
Once the map is completed you have options for customised cleaning such as: no-go zones, no-mop zones, room, point and area cleaning. You can set different vacuuming and/or mopping levels per room or custom area. Vacuum supports up to 5 saved maps for multi floor cleaning. It wasn't able to automatically detect which room it was dropped in and started a completely new map. You need to load the map manually when changing the location.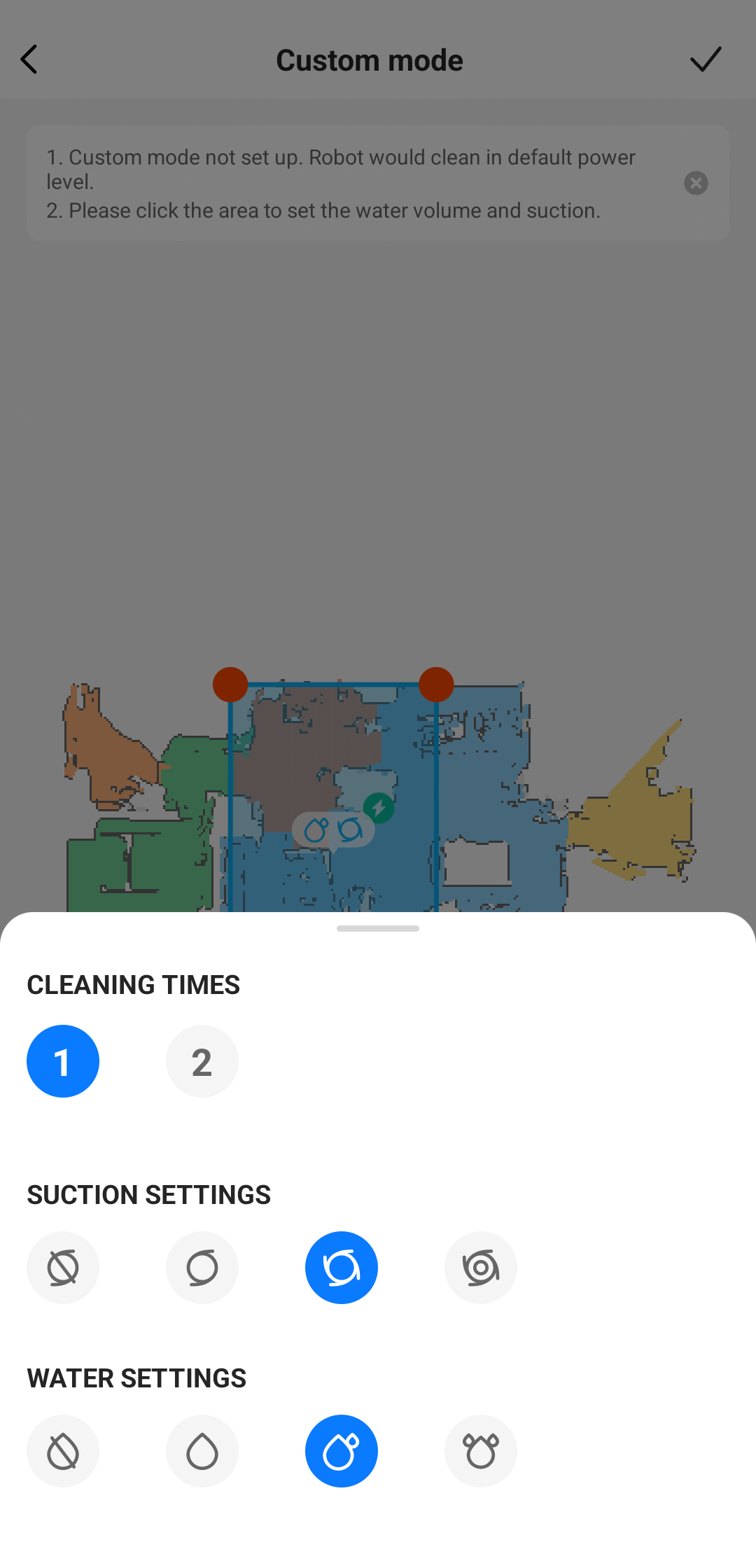 You will receive standard error notification on your phone including reports from base station when the dust bag is full or missing.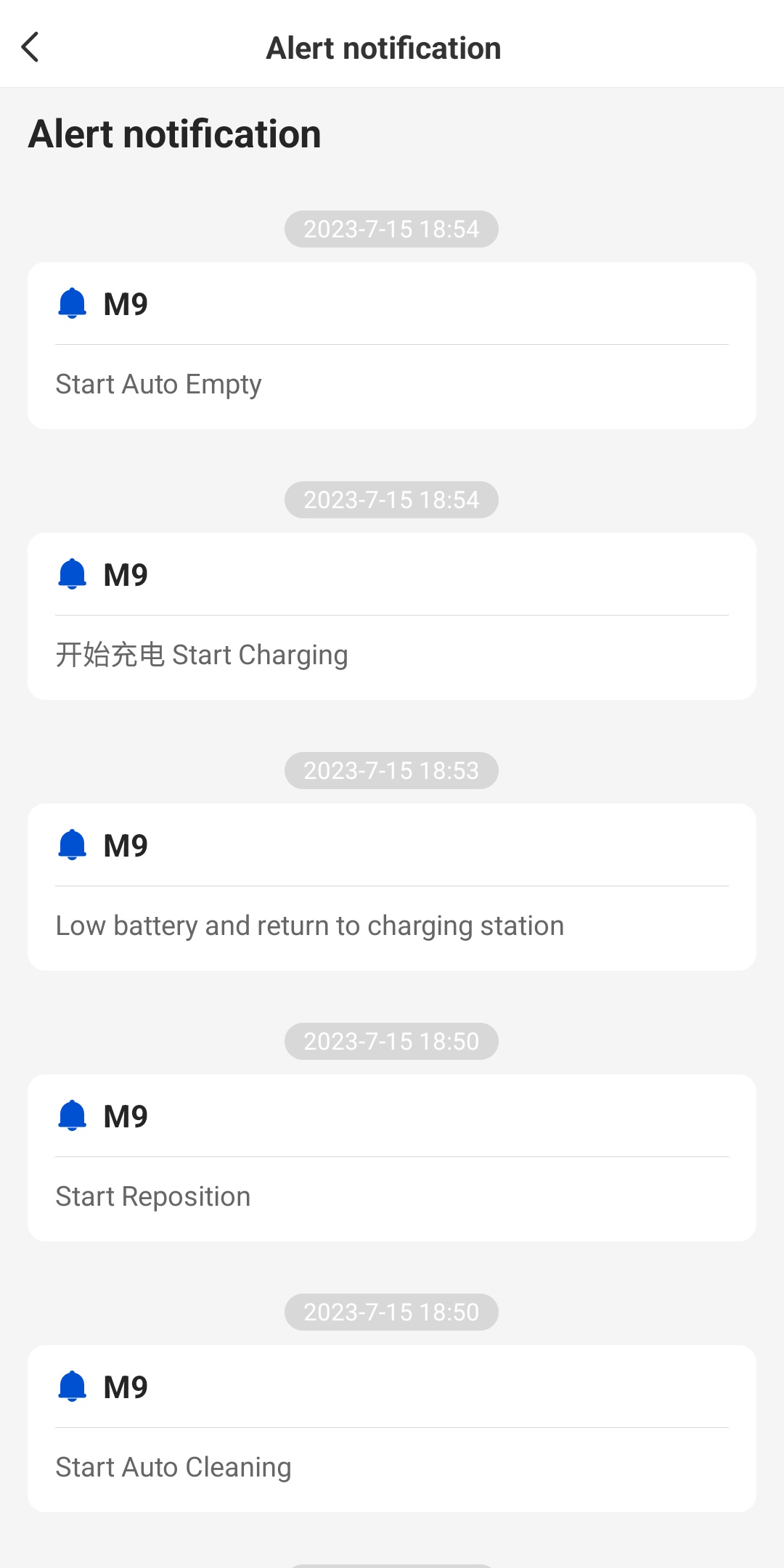 ProscenicHome app integrates with Google Home and Alexa but only with basic commands for starting and stopping cleaning and adjusting suction levels.
Firmware Annoyances
I have qualms with the sound choices Proscenic made. When an error voice prompt is triggered it goes on and on until you resolve the error. That is particularly annoying when taking out the water tank/dust bin to refill it with water and the vacuum keeps nagging about it for no reason.
Second annoyance is that it chimes on EVERYTHING. Chimes when starting cleaning, when changing options, randomly for apparently no reason. Wouldn't be a big issue if it weren't so annoying and louder than the voice prompts.
Yes, you can mute the vacuum but then you don't get any alerts at all, even the meaningful ones like when its stuck.
Integrations
Underlying protocol of the vacuum is Tuya protocol and everything is fairly standard. This allows you to integrate it like other Tuya Wi-Fi devices.
I've added support for Proscenic M9 to Home Assistant via the Tuya Local custom component. Use the tuya-uncover script to obtain the device id and local key from the ProscenicHome app needed for Tuya Local.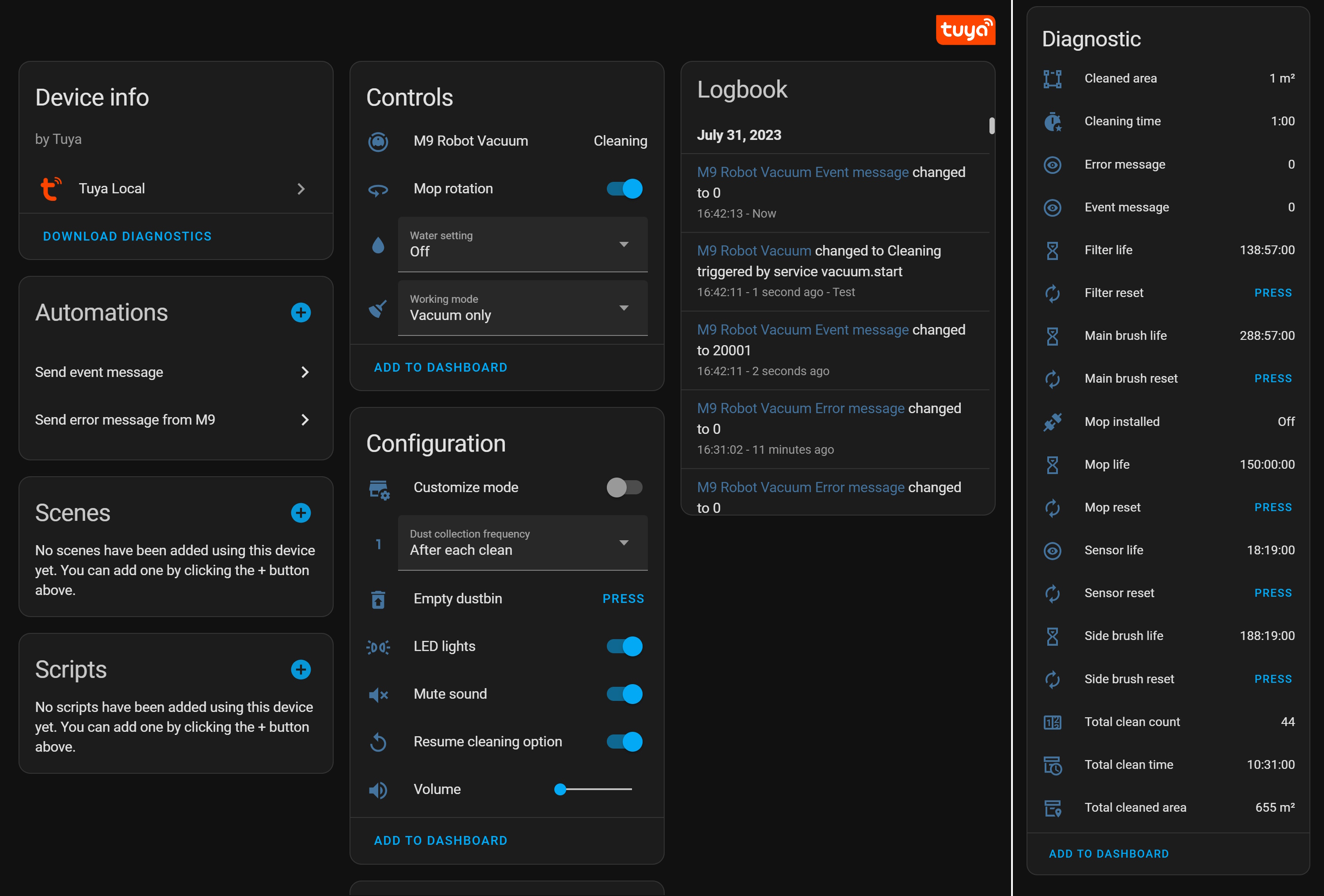 This integration in Home Assistant doesn't include room cleaning and custom options because the complex protocol for those isn't yet implemented. You need to use the app for those. Otherwise you can block internet access to the vacuum and control it locally.
Final Thoughts
The price to features ratio on this vacuum is excellent. Good navigation, large battery, strong vacuum and on top of that an actual mopping system. Rotating mops are a giant improvement, if you have hardwood floors or tiles this is a must have feature and if you cannot splurge on the self cleaning versions the M9 doesn't have any competition at this price range. The closest serious competitor is the Roborock Q7 which still uses the old mop pad.
Yes, the water tank is miniscule and handicaps mopping and the firmware would benefit from being a little less annoying. But at the mid-range price category it is currently unbeatable and with the running discount and coupon deal a good value.
My review sample has now replaced the Viomi S9 on request from Mrs. Blak. She was very impressed with mopping efficacy and demanded it to be put into service.
Proscenic M9 is available on Amazon.
Use discount code 4JNF2AIT to drop the price to 479€, valid only until 06.08.2023.